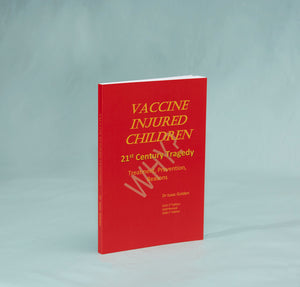 Vaccine Injured Children
Regular price $33.00 Sale
Treatment, Prevention, Reasons
by Dr Isaac Golden PhD, D.Hom., N.D.,B.Ec(Hon)
"My first experience with a vaccine damaged child was in the late 1970's with my own daughter. That is why I have never needed anyone to convince me that vaccine damage is a reality." Isaac Golden
Vaccine damage is a tradegy that is inflicted not only on the damaged child but also upon the whole family. This is a very positive book which may offer some hope.
This book asks and answers four basic questions
Does vaccination cause damage?

What are the symptoms of vaccine damage?

How can we prevent vaccine damage?

How do we treat vaccine damage?

The answers to these questions are supported by many facts and figures and case examples.

Dr Golden is a world authority on homoeoprophylaxis- the use of homoeopathic medicines for specific disease prevention, and has undertaken the world's largest long-term study of parents using such a program.
Pages: 130
Dimensions: 15.8cm x 21.9cm