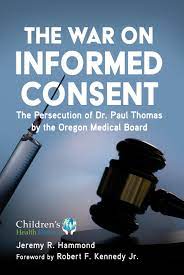 The War on Informed Consent
Regular price $45.00 Sale
by Jeremy Hammond
To preserve public vaccine policy, Dr. Paul Thomas was disbarred and discredited--discover how he was punished for pursuing the truth for his patients.
On December 3, 2020, the Oregon Medical Board issued an emergency order to suspend the license of renowned physician Paul Thomas, MD. The ostensible reason was that Dr Thomas posed a threat to public health by failing to vaccinate his pediatric patients according to the CDC's schedule. However, the order came just days after Thomas published a peer-reviewed study indicating that his unvaccinated patients were the healthiest children in his practice. The medical board ignored this data despite having requested Thomas to produce peer-reviewed evidence to support his alternative approach.
"Dr Paul" started out practising medicine the way he was trained to, which meant vaccinating according to the CDC's routine childhood vaccine schedule. But then he went on a journey of awakening, becoming what he calls "vaccine risk-aware," and arrived at a place where no longer in good conscience could he continue "business as usual" with this one-size-fits-all approach. He left a private group practice to open his own clinic with the foundational principles of individualized care and respect for the right to informed consent. He wrote the Vaccine-Friendly Plan with Jennifer Margulis, PhD, to help parents navigate the decision-making process. Then the accusations from the medical board started coming.
The War on Informed Consent exposes how the medical board suspended Dr Thomas's license on false pretexts, illuminating how the true reason for the order was that, by practising informed consent, he posed a threat to public vaccine policy, which is itself the true threat to public health.