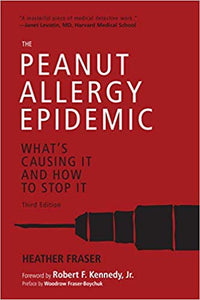 The Peanut Allergy Epidemic
Regular price $30.00 Sale
The Peanut Allergy Epidemic - What's Causing it and How to Stop it by Heather Fraser.

This is a new edition (2017) complete with a forward by Robert F Kennedy Jr
Why is the peanut allergy an epidemic that only seems to be found in Western cultures? Where did this allergy come from, and do pharmaceuticals play a role in the disturbing human phenomenon? After her own child had an anaphylactic reaction to peanut butter, historian Heather Fraser decided to discover the answers to these questions. Delving into the history of this rapidly growing allergy, Fraser uncovers the first allergy epidemic that occurred in children over 100 years ago. Her research pinpoints the moment around 1990 that the incidence of peanut allergy suddenly accelerated in children and explores the complex weave of social, medical, political, and economic factors that support its persistence. Fraser asks bold questions and attempts to answer why and how the epidemic of peanut allergy has occurred - a shocking must-read for every parent, teacher, and health professional.
Pages: 195
Dimensions: 15.2cm x 22.9cm
ISBN: 978-1-61608-273-4