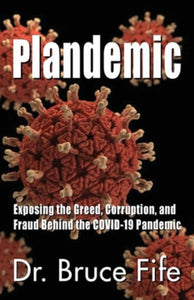 Plandemic - Dr Bruce Fife
Regular price $13.50 Sale
Exposing the Greed, Corruption, and Fraud Behind the COVID-19 Pandemic
by Bruce Fife
What we are told about the COVID-19 pandemic is insanely wrong! This pandemic didn't come about by chance. It was a carefully orchestrated and planned event-a plandemic.
From the selection of the virus, to how it is managed and promoted in the media, down to the solution, was all designed to enrich a select group of billionaires and their minions at our expense. While most of the world is reeling in a financial crisis because of the mismanagement of the pandemic, the perpetuators are cashing in on billions in profits.
In this book, you will discover how they did it, how they fooled government and health officials, how they persuaded us to follow insane measures to supposedly slow the spread of the disease, and how they plan to profit off of us.
Their solution to the problem is motivated by profit, not by concern for your health and welfare. In fact, following their planned agenda will take away your freedom of choice and put your health at risk. There are much better, safer solutions that have proven effective.
Don't think this is the last global health crisis we will face, it is only the beginning. The information in this book will help you distinguish between a real health crisis and a fraudulent one and what to do about it.