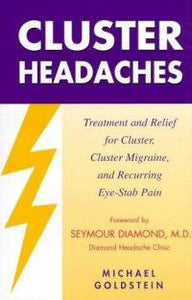 Cluster Headaches
Regular price $19.95 $10.00 Sale
Cluster Headaches by Michael Goldstein.
Treatment and Relief for Cluster, Cluster Migraine, and Recurring Eye-Stab Pain.
This book is provided to encourage and support cluster headache victims, their families, and the doctors who are trying to help them. It profides clues about this enigmatic condition, and promising methods to treat and relieve the pain.
Do you periodicaly experience excruciating pain behind one eye? Are common medications relatively ineffective at providing relief? Is the pain so intense that you've though about suicide? If so, then you may be suffering from cluster headaches.
Cluster Headaches (also called cluster migraines or Horton's Syndrome) are similar to migraines but shorter in duration, more frequently occurring, and much more severe. Attacks arrive in clusters lasting weeks to months, with months or years between headache cycles.
Many cluster headache victims suffer alone. Their symptoms were either misdiagnosed, or they are unaware of current treatment modalities. Yet, help is now available for thousands of men and women who are afflicted with this debilitating ailment.
Pages: 80
Book Size: 14cm x 21.5cm
ISBN: 1-881217-18-3