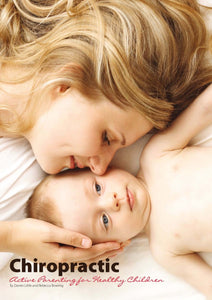 Chiropractic-Active Parenting for Healthy Children - by Darren Little & Rebecca Bowring (LW2)
This is an online article. Upon purchasing you will be sent an email that allows you to download your article.
Despite the widespread misconceptions of mainstream
media, conscientious objection to vaccination is not an
act of laziness, ill-education or obstinacy on the part of parents,
but rather the beginning of a long road of very active parenting.
The same research and preparation that goes in to 'birth-plans'
and 'desired birthing outcomes' is even more poignant when it
is applied to the health and wellbeing of our tiny charges. We
have a responsibility to teach and encourage our children to be
healthy from an early age, making decisions for them initially
and guiding them towards making better health choices for
themselves as they mature.
So how are parents expected to negotiate their way around the
ever-changing minefield that is 'good health practices' at any
given moment? What tools do we have to support our decision
to take active responsibility for the health of our families? The
first port of call for most people in this situation is the internet.
Though this tool may be convenient, it is also often confusing
and can be at worst alarmist. The overabundance of information,
often conflicting in nature, can lead down unnecessary and
fruitless paths and perhaps even cause needless doubt about the
reasons for investigating in the first place. GPs rarely support the
decision not to vaccinate, at best being ambivalent and/or wiping
their hands of such 'radical' parenting styles. Wouldn't it be great
if they at least suggested a health-care practitioner that could
support our children's wellbeing and our active role as parents?
First printed in Living Wisdom #2