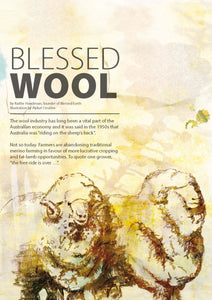 Blessed Wool - by Raithe Handiman (LW3)
This is an online article. Upon purchasing you will be sent an email that allows you to download your article.
The wool industry has long been a vital part of the
Australian economy and it was said in the 1950s that
Australia was "riding on the sheep's back".
Not so today. Farmers are abandoning traditional
merino farming in favour of more lucrative cropping
and fat-lamb opportunities. To quote one grower,
"the free ride is over …".
Compounding the situation is the fact that much of the
wool grown in Australia is now being processed in
China for a fraction of the cost and manufactured into products
there, then sent back for our retail markets. There has been a lot
of adverse publicity about the toxicity of some of these wool
products.
Fortunately, increasing numbers of growers are converting to
organics, meaning that the sheep are not exposed to chemicals,
either through their food or through animal-husbandry practices.
Organic practices are beneficial to the sheep, to the grower and
to the environment, and organic farmers are far less likely to
resort to mulesing in order to counter fly strike.
In order for the wool to be certified, it must also be cleaned
to organic standards, using biodegradable detergents that
leave no chemical residue. In order for the end product to be
certified, all stages of the manufacturing process have to be
rigorously inspected to ensure that there is no possible risk of
contamination from uncertified materials and that there is an
uninterrupted 'paper trail', proving the organic integrity of the
product.
To Read More Please Purchase This Article
First printed in Living Wisdom #3