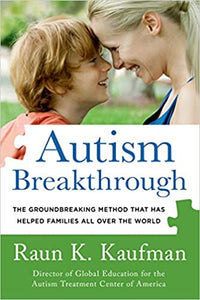 Autism Breakthrough
Regular price $21.00 Sale
by Raun K. Kaufman
In Autism Breakthrough, Raun presents the innovative techniques behind the program that helped him and thousands of other children and adults.
A step-by-step guide written with humor, inspiring stories, and clear, practical strategies that readers can apply immediately, this book gives parents who have felt desperate and dismissed the tools to reach their own children. Parents and educators learn how to enable their children to create meaningful, caring relationships, vastly expand their communications, and participate successfully in the world.
Autism Breakthrough breaks all the rules and shows how joining children in their own unique worlds before asking them to join us in ours makes it possible for these special children to defy their original often-very-limited prognoses.