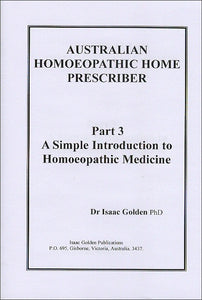 Australian Homeopathic Home Prescriber Pt 3
Regular price $13.00 Sale
The treatment of simple everyday conditions
by Isaac Golden, PhD(MA), K.Hom.,N.D.,B.Ec(Hon),
ISBN: 978-0957-8726-5-3
Paperback, 145mm x 220mm, 41 Pages
Isaac Golden is Faculty Head of Homoepathy at the Melbourne College of Natural Medicine, which now offers Degree courses in Homoeopathy.
He has been practicing homoeopath since 1984 ,with clinics in Daylesford and Melbourne. He specialises in treating patients of all ages who suffer from chronic illness.
Isaac was President of the Victorian branch of the Australian Homoeopathic Association-Australia's largest national organisation of professional homoeopaths-from 1992 to 1998.
In March 1999 he was awarded the Association's Distinguished Service Award for his many years of service to the Australian Homoeopathic Association and for his significant contributions to the homoeopathic profession in Australia"
Isaac has been teaching homoeopathy for 14 years. He is founder and Director of the Australasian College of Hahnemannian Homoeopathy which has offered distance education courses in homoeopathic medicine for over 10 years. In April 2000 he established the Homoeopathy International Online College to teach simple courses in homoeiopathy and natural medicine directly through the Internet.
Isaac is the author of seven books on Homoeopathy. He is a world authourity on the use of homoeopathic medicines for specific disease prevention. He is currently researching at Swinburne University.
The purpose of this book is to help you learn more about those Homoeopathic remedies which you may consider using to treat simple everyday or first-aid conditions.Homoeopathic remedies are non-toxic and if used sensibly are completely safe. Their sensible use will often prevent the need for chemical drugs or minor surgery.