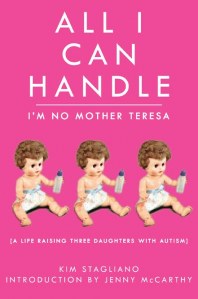 All I can Handle - I'm No Mother Teresa Paperback
Regular price $13.00 Sale
All I can Handle by Kim Stagliano with a Forward by Jenny McCarthy.
Want to know about the science of autism - you will find a bit of that there. But in the main, this story is a personal account of what life is like with autistic children. Sounds sad and sorry? Think again. Kim uses her experiences to make you laugh about what most would cry over. An uplifting book for anyone - whether a parent of an autistic child or not. Quick to read and hysterically funny (really!). Yes, it is possible to have children with autism and still enjoy life. Here is the information from the book blurb.
How one woman raises three autistic daughters, loses one at Disney World, stays married, has sex, bakes gluten-free, goes broke and keeps her sense of humour.
Kim Stagliano's electrifying, hilarious tale of her family's journey raising three daughters with autism. With her funny, startling and illuminating first book, Stagliano joins the ranks of bestselling memoirists like David Sedaris and Augusten Burroughs. With her willingness to lay everything on the table - family, friends, and enemies to basement floods to birthdays to (possible) heroin addictions - she eviscerates and celebrates the absurd.