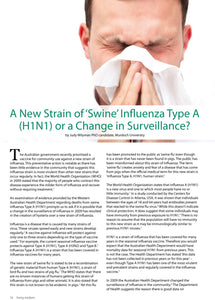 A New Strain of 'Swine' Influenza Type A or a Change in Surveillance? - by Judy Wilyman (LW5)
This is an online article. Upon purchasing you will be sent an email that allows you to download your article.
The Australian government recently prioritised a
vaccine for community use against a new strain of
influenza. This preventative action is notable as there has
been little evidence in the community that suggests this
influenza strain is more virulent than other new strains that
occur regularly. In fact, the World Health Organization (WHO)
in 2009 stated that the majority of people who contract this
disease experience the milder form of influenza and recover
without requiring treatment.
To Read More Please Purchase This Article
First printed in Living Wisdom #5