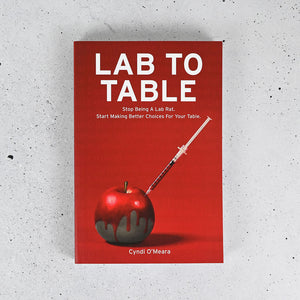 Lab to Table
Regular price $30.00 Sale
A powerfully insightful book revealing the truth about our food
Cyndi exposes the hidden ingredients within foods, demanding transparency for everyone so they can make informed decisions and better choices for themselves and their families
Learn how modern foods will challenge the health of your body and understand how to best heal and nourish it instead.
Step-by-step guide – discover chapters on flavours: natural is not real, clean labelling: a disguise for additives, not all salt is equal, stop counting calories, beware of fake meats and eat chocolate!
Replace favourite foods with satisfying healthier alternatives, revoke mindless, unhealthy eating and relish in real whole foods.