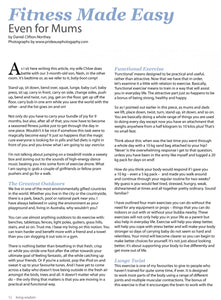 Fitness Made Easy Even For Mums - by Daniel Clifton-Northey (LW5)
This is an online article. Upon purchasing you will be sent an email that allows you to download your article.
As I sit here writing this article, my wife Chloe does
battle with our 3-month-old son, Nash, in the other
room. It's bedtime or, as we refer to it, baby boot camp!
Stand up, sit down, bend over, squat, lunge, baby curl, baby
press, sit up, carry in front, carry on side, change sides, push
up, bend and twist, run, jog, get on the floor, get up off the
floor, carry bub in one arm while you save the world with the
other –and the list goes on and on!
To Read More Please Purchase This Article
First printed in Living Wisdom #5