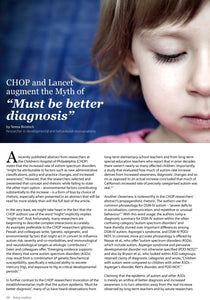 CHOP and Lancet augment the Myth of "Must be better diagnosis" - by Teresa Binstock (LW6)
This is an online article. Upon purchasing you will be sent an email that allows you to download your article.
A recently published abstract from researchers at
the Children's Hospital of Philadelphia (CHOP)
states that the increased rate of autism-spectrum disorders
"might be attributable to factors such as new administrative
classifications, policy and practice changes, and increased
awareness".1 However, that the researchers selected and
presented that concept and rhetoric while failing to state
the other main option – environmental factors contributing
substantially to the increase – is a form of bias by choice of
rhetoric, especially when presented in an abstract that will be
read far more widely than will the full text of the article.
To Read More Please Purchase This Article
First printed in Living Wisdom #6