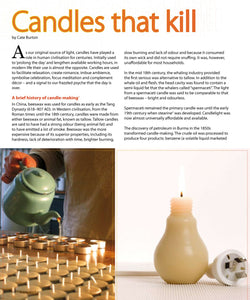 Candles that kill - by Cate Burton (LW6)
This is an online article. Upon purchasing you will be sent an email that allows you to download your article.
As our original source of light, candles have played a
role in human civilisation for centuries. Initially used
to 'prolong the day' and lengthen available working hours, in
modern life their use is almost the opposite. Candles are used
to facilitate relaxation, create romance, imbue ambience,
symbolise celebration, focus meditation and complement
décor – and a signal to our frazzled psyche that the day is
over.
A brief history of candle-making
1
In China, beeswax was used for candles as early as the Tang
Dynasty (618–907 AD). In Western civilisation, from the
Roman times until the 18th century, candles were made from
either beeswax or animal fat, known as tallow. Tallow candles
are said to have had a strong odour (being animal fat) and
to have emitted a lot of smoke. Beeswax was the more
expensive because of its superior properties, including its
hardness, lack of deterioration with time, brighter burning...
To Read More Please Purchase This Article
First printed in Living Wisdom #6