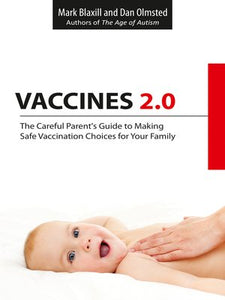 Vaccines 2.0
Regular price $24.00 Sale
by Mark Blaxill and Dan Olmsted, Authors of the Age of Autism
The CDC's bloated vaccine schedule has doubled since 1988, after the federal government gave pharmaceutical companies immunity from lawsuits. Autism and other childhood disorders like asthma, ADHD, juvenile diabetes and digestive ailments have skyrocketed. And parents are understandably nervous, desperate for objective guidance that takes those concerns seriously.
Vaccines 2.0 looks at the lengthy roster of today's recommended injections, the documented risks that accompany them, and helps parents choose a schedule based on unbiased, uncensored, unconflicted science. From whether to get a flu shot during pregnancy--and how to avoid dangerous mercury if you do--to the Hep B shot within hours of birth, to the controversial Gardasil vaccine for preteens, Vaccines 2.0 provides the tools to decide for yourself. The three sections cover: Why should you care? What should you know? What can you do?
The exclusive Risk-Reward Assessment assigns a numerical score to each of the 14 recommended vaccines. Also included is information on learning to spot, report and treat side effects; talking to your doctor and finding a sympathetic one if you can't, and comparing alternative schedules if you decide to delay or skip shots.
When it comes to your child, it's your choice. Vaccines 2.0 will give you the information you need to choose wisely.