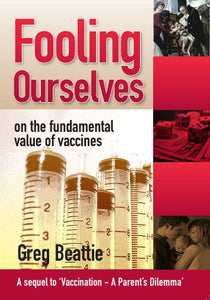 Fooling Ourselves - On The Fundamental Value of Vaccines (e-Book) - by Greg Beattie
Regular price $10.00 Sale
This is an online book. Upon purchasing you will be sent an email that allows you to download your book.
Greg Beattie is a father of 7 children who became famous in Australia when he took the Maroochy Shire Council to the Human Rights and Equal Opportunities Commission back in 1996 because of their refusal to allow his 2 healthy, unvaccinated children into the council-run childcare centre.
His book about that experience, Vaccination: A Parent's Dilemma, was an overnight best-seller and described how, despite producing a large number of medical journal articles showing that the unvaccinated posed no risk to the vaccinated, the Commissioner found in favour of the Council who had produced no information whatsoever.
After a long break from this issue, Greg has returned with a new book that discusses why vaccines don't work. While most books on this subject put a lot of emphasis on the risks and side effects associated with vaccines, this book claims that the risks become a moot point if the vaccines don't work to prevent disease in the first place.
Filled with research that you will not find elsewhere as well as a series of 28 exclusive graphs showing the death rates from infectious diseases from the late 1800s through to today, this downloadable volume is highly recommended!